Shunt Capacitor Bank Switching
Improve power flow and increase reliability by selecting the right capacitor switching solution for a shunt capacitor bank.
A capacitor bank represents an effective and low cost alternative for maintaining a desired voltage profile and improving the power flow of transmission and distribution systems. It is common for capacitor banks to be switched daily as the system loads and voltage schedule vary throughout the day. The right capacitor switching device is key to reliable and trouble free capacitor bank performance. Energizing and deenergizing shunt capacitor banks from the system presents some unique challenges, as the voltage across the capacitor cannot change instantaneously. Energizing capacitor banks causes unwanted, high frequency, steep front, voltage and current transients that may cause nuisance tripping of adjustable-speed drives, computer network problems, and customer equipment damage or failure. The steep front overvoltages "nibble" at equipment and cable insulation, shortening their life. In addition, restrikes in the switching device (especially vacuum devices) may cause failure of local or remotely located surge arresters, the switching device, and/or the capacitor bank.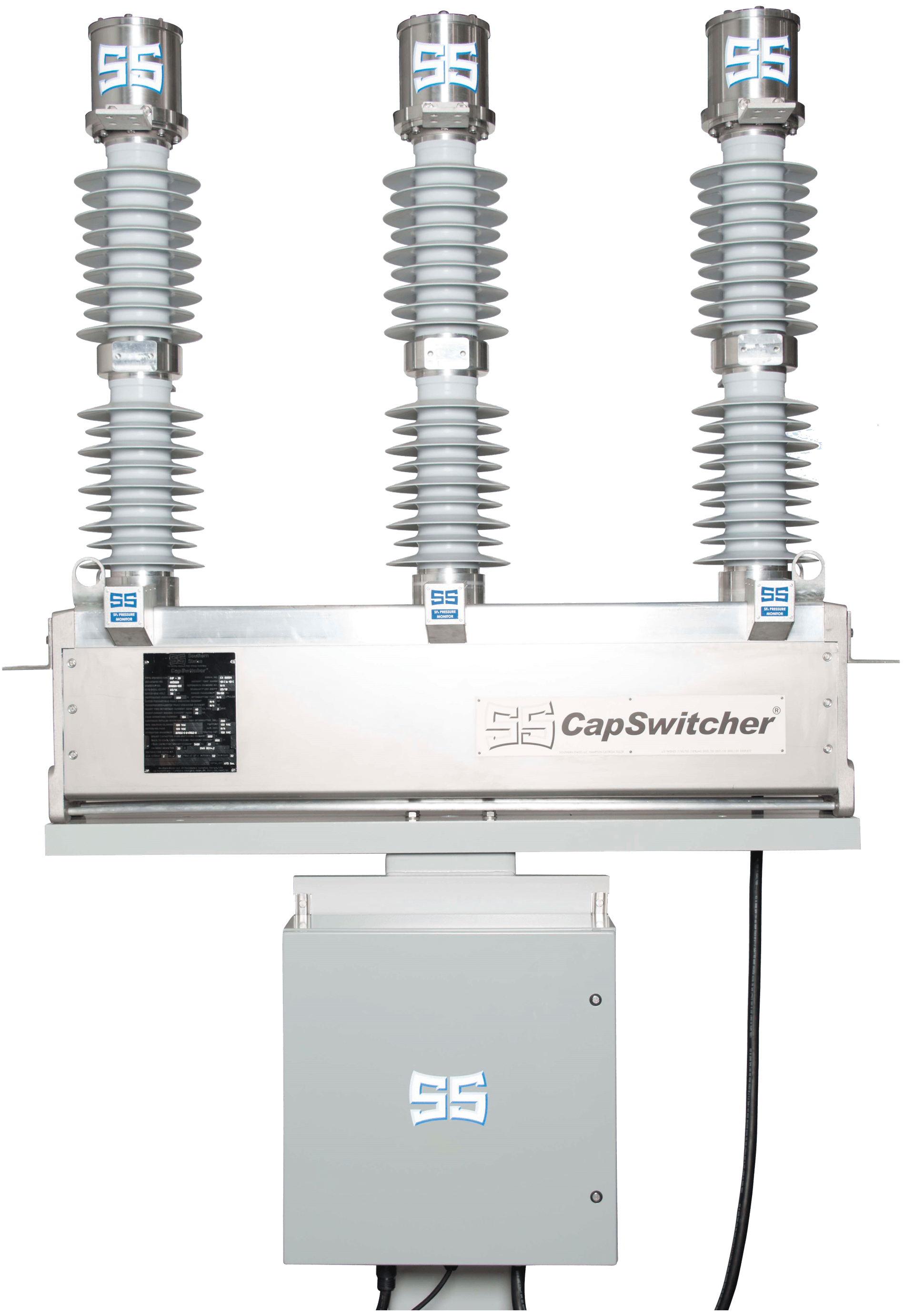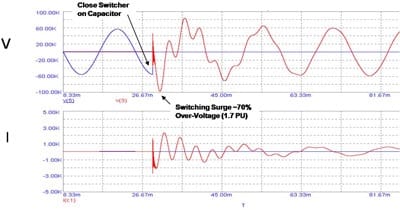 Switching of a 72.5kV Capacitor Bank with no Transient Suppression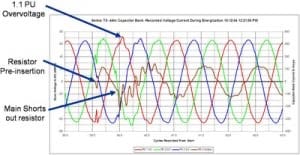 Actual recording of a 44kV capacitor bank being switched in with a CapSwitcher® with closing resistors
The Solution of a Lifetime, CapSwitcher®
---
Several techniques have been developed to mitigate these transients including application of arrestors, inrush reactors, controlled voltage switching devices, pre-insertion resistors, and pre-insertion inductors.
An ideal capacitive switching device would be designed with a high and maintained transient recovery voltage capability to minimize the likelihood of a restrike occurring. In addition, the switching device would incorporate a feature that would reduce the high frequency voltage and current transients when the capacitor bank is connected to the system, and be suitable for a large number of maintenance free operations.
In 2003, Southern States introduced the only switching device designed specifically for capacitor switching, the CapSwitcher®. The CapSwitcher® is capable of a large number of operations (10,000), and utilizes closing resistors to mitigate voltage transients and inrush current. By designing specifically for this application, it was possible to improve the performance and reliability over general purpose devices (such as vacuum switches, circuit switchers, and circuit breakers) while maintaining a competitive cost.
In the CapSwitcher® design, the resistor, contact design, nozzle design, and resistor insertion method were the keys to achieving a reliable long term solution for mitigating the transients that occur when energizing a capacitor bank. Additionally, the contacts and nozzle were designed to virtually eliminate the possibility of re-strikes during de-energizing of the capacitor bank.