Physically Securing Substations and Critical Assets with Ballistic Solutions
Substations are a part of an electrical generation, transmission, and distribution system. They are essential for the transformation of voltage by taking electricity from power plants and transmission lines. These electrical hubs distribute that electricity to consumers while supervising and protecting the distribution network.
Typically, substations contain critical switching equipment, control equipment, and transformers, however they often lack in appropriate protection. As a critical part of the U.S. power grid, an attack on a substation could result in massive power outages in large sections of the country. Since 2013, there have been as many as four known attacks on transmission substations around the country, the most recent being in November of 2014. While these potentially disastrous attacks did not have a significant impact on the power availability, it opened up the need for a more advanced form of substation protection.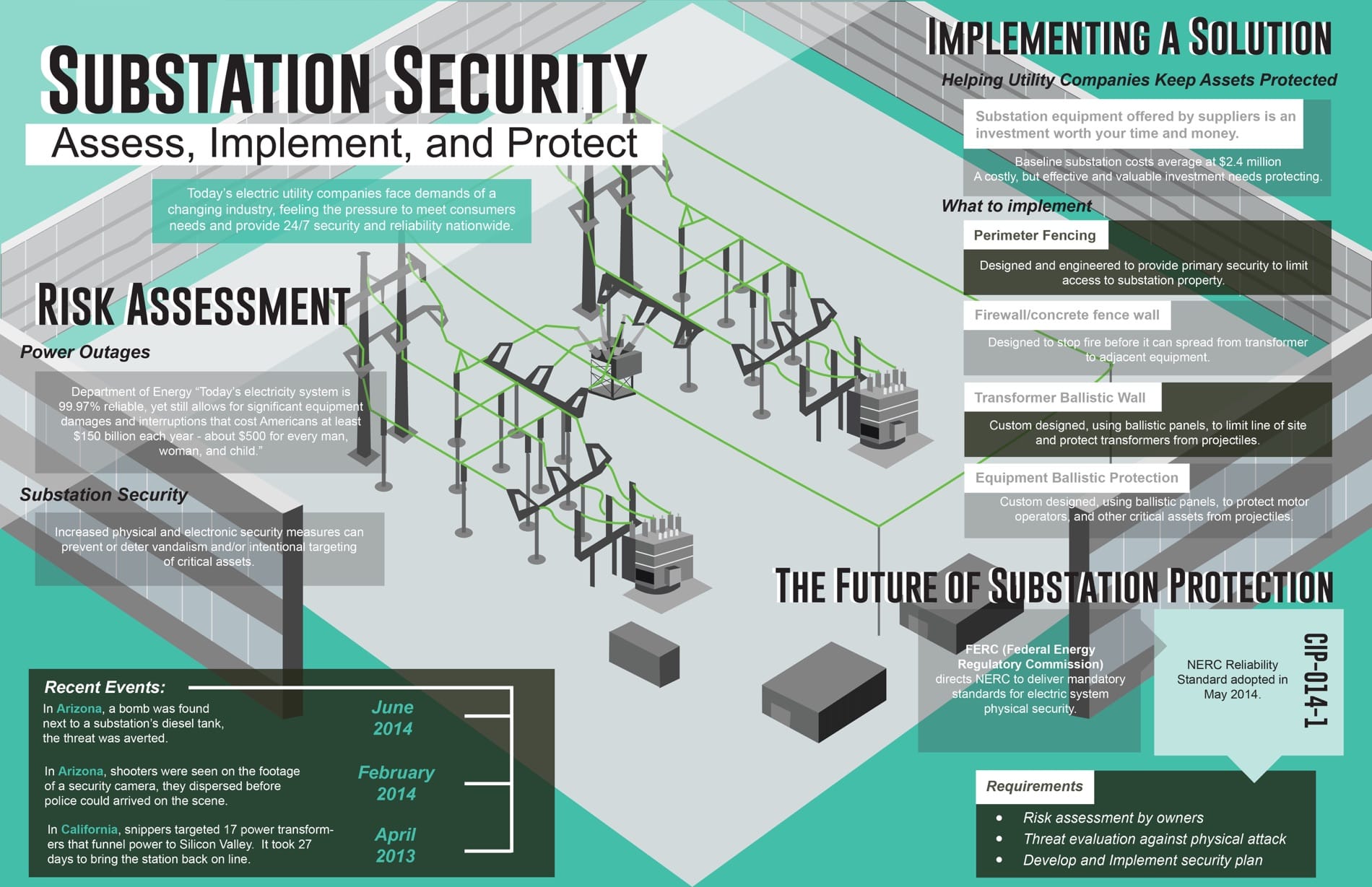 Protecting Our Substations
From orders by the FERC (Federal Energy Regulatory Commission), the NERC (North American Electric Reliability Corporation) developed a response to these recent attacks by developing, proposing, and filing for Mandatory Reliability Standards to address the threat level of vulnerabilities of critical facilities, like transmission substations. Along with that, many utility companies have been initiating the development of a "Guide for Electric Power Substation Physical and Electronic Security."
Ballistic resistant wall panel enclosures have been designed to prevent damage from projectiles. Utilizing fiberglass reinforced panels in unison with perimeter fencing depletes chances of interference by better controlling on-site access.
Southern States has perfected substation protection with industry leading solutions. The Ballisti-Wall® and Ballisti-Cover® are lightweight, corrosion proof, non-conductive, and electromagnetically transparent solutions that can be customized and implemented to protect these critical substation assets. Southern States offers the highest protection for critical assets by providing the best solutions and partnering with the most advanced and secure companies, like Sensei. Sensei delivers low-risk solutions for remote-site protection. By combining our solutions, your critical assets are guaranteed to be safe from any form of physical threat.
Our informative infographic lays out the most important aspects of substation protection and what can be done to prevent damaging attacks. For more information about our substation security solutions, call us today to speak to one of our experts. Watch our Ballistic Solutions video to see how it works.