Connecting Solar to the Grid
As more renewable energy installations are added to the grid, utilities are increasingly setting limits on the level of voltage sags and rapid voltage change (RVC) events as part of their interconnection requirements. To minimize these phenomena, inrush currents must be monitored and reduced during connection of the solar farm to the grid. Modeling this can be very expensive and time-consuming, however, a simplified quick estimate has been developed to assess the need for inrush mitigation. While this estimate does not take the place of a complete system study, it will provide guidance that can lead to a cost effective solution if the requirement for inrush mitigation is confirmed.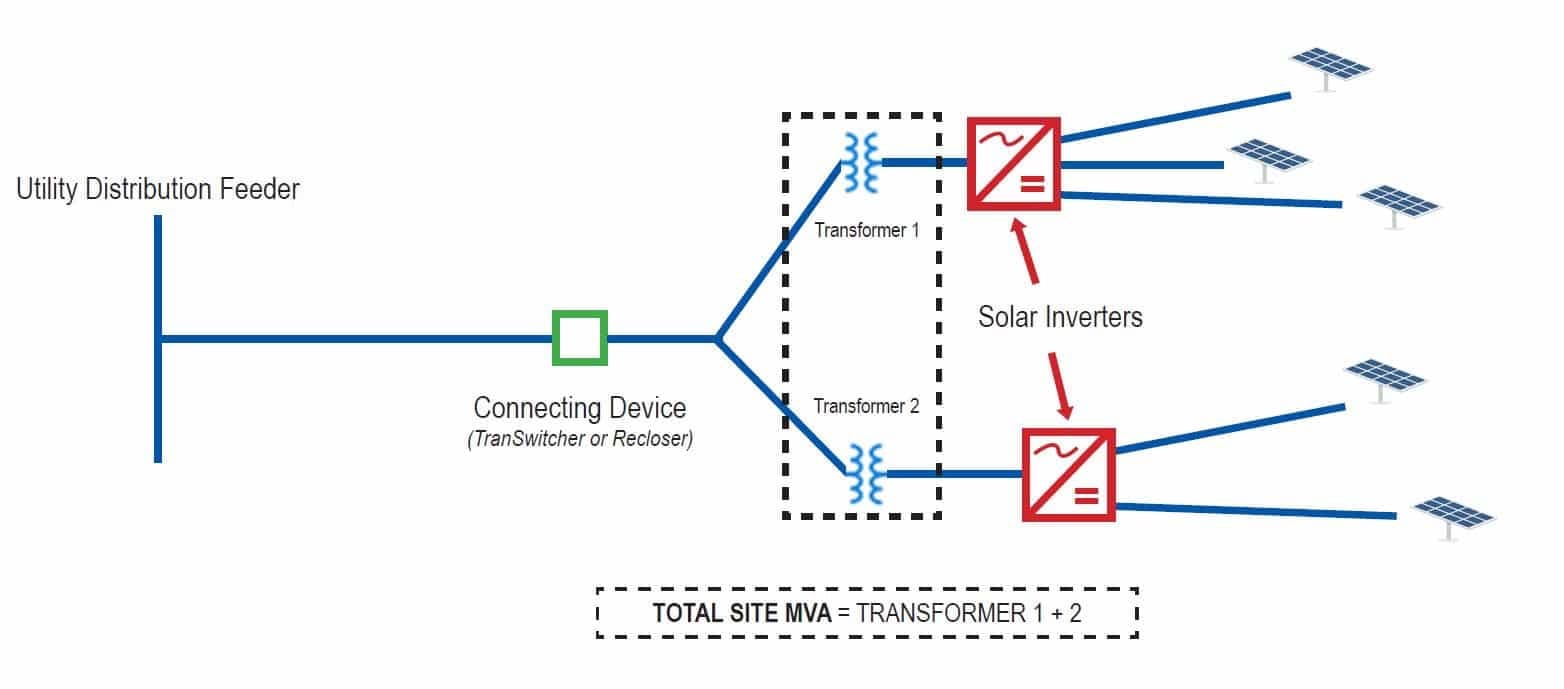 Does Your Solar Site Need Inrush Control?
Product Offerings
Southern States offers the TranSwitcherⓇ and recloser product lines for distribution applications to support renewable interconnection requirements:
Product Offerings
Southern States offers the TranSwitcherⓇ and recloser product lines for distribution applications to support renewable interconnection requirements:
Connecting Solar to the Grid – Frequently Asked Questions
Here are a few quick answers to some common solar intertie questions.
Why Is Inrush Current Mitigation Important?
Inrush currents may result in system voltage sags or Rapid Voltage Change events (RVC) which can lead to operational disruptions for local industrial and commercial businesses. The resulting voltage may also be in violation of interconnection agreements between the solar developer and the utilities. This can sometimes result in costly penalties.
Where Are Rapid Voltage Change (RVC) Events Most Common?
As Distributed Energy Resources (DERs), such as solar farms, become increasingly more integrated into the grid, RVC events frequently occur when energizing the DER transformer(s).  The chance of an RVC event shares a positive correlation with distribution line length as well as the number and size of connected renewables (i.e. solar farms).
How Can the High Inrush Currents that lead to RVC Events Be Addressed?
Some traditional methods of inrush current mitigation include staggered energization of transformers, use of an auxiliary transformer during DER energization, and controlled switching with polarity and peak voltage switching control. These methods, however, involve costly equipment purchases, ongoing maintenance, and often come with reliability concerns. The Southern States' TranSwitcher® was recently introduced to the market as an innovative solution that utilizes pre-insertion resistors to limit the current inrush during transformer energization. This "Soft Close" approach minimizes system voltage drops and potential ferro-resonance issues caused by high inrush currents. The TranSwitcher® can be mounted on a pole or pad near the connection to the utility distribution feeder and allows energization of all site transformers at one time. The pre-insertion resistor is sized specifically for the site to achieve the desired results.
What Are The Savings Associated With Reliable DER Transformer Switching?
By disconnecting the DER from the grid at night by switching the transformers at the Point of Common Connection (PCC), transformer No Load Losses and their associated cost can be eliminated.  As the DER site approaches 30 MW, the savings can exceed the cost of the switching device being added. If a reliable switching device is selected, there is also the added benefit of transformer life longevity. The Transwitcher® "soft switches" the transformer by mitigating harmful inrush currents at startup, allowing frequent in and out switching that will have a positive financial impact for the utility.
Is A Full System Study Needed To Determine If My Site Needs Inrush Mitigation?
The form (above), based on the user's input values, gives an evaluation of the solar site's vulnerability to inrush current and voltage sags so it can be determined quickly if inrush mitigation will likely be needed. In most cases, the local utility will require a more complete study or do one themselves to evaluate the voltage impact at the point of common coupling (PCC). If the estimator indicates that inrush mitigation is most likely needed, please contact us today to learn more about the Southern States' TranSwitcher®, a pre-insertion resistor solution, and how it can help limit inrush currents during energization of DER transformers.