Reduced Installation Time and Improved Reliability
The ES-1 side break multi-way transmission line disconnect switch was designed in response to the market's need for solutions that offer simplified installation and adjustment that minimizes the probability of operator error, increasing reliability. The Southern States one-way, two-way, and three-way ES-1 transmission line switches utilize an innovative foldable frame and contact geometry to reduce average installation times by 50% and provide superior reliability over time. The ES-1's frame design allows Southern States  to fold each assembled phase assembly into a compact package which can be easily transported, received, unfolded, and installed by crews.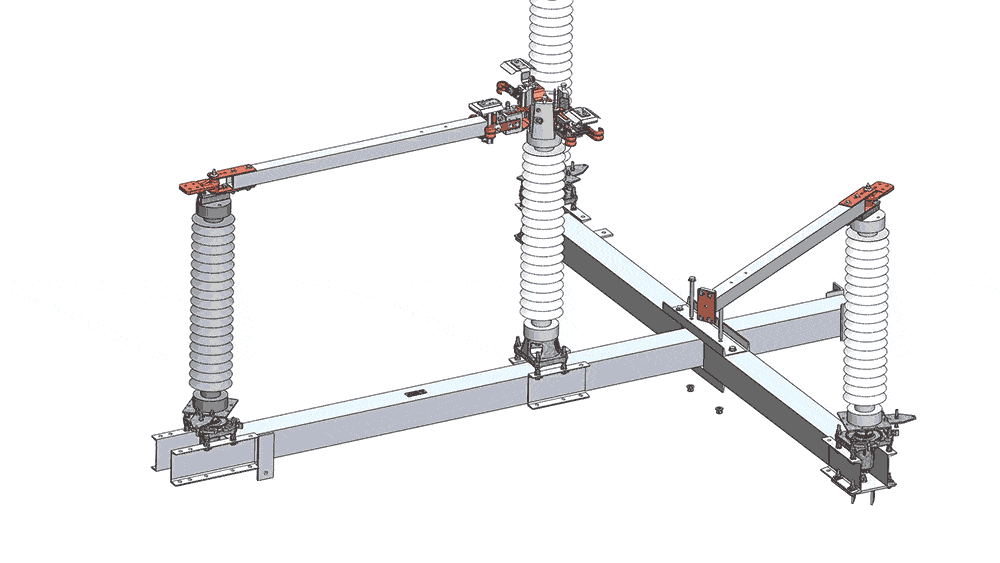 Patented Collapsible Frame Assembly
The non-rotational blade and contact geometry of the ES-1 allows for trouble-free seating in the jaw regardless of operator pressure. Utilizing the design principles of the proven EC-1 Center Break disconnect with an added feature of a larger contact area, alignment is ensured and potential issues from closing at the wrong speed are eliminated. These features also provide improved performance in adverse weather conditions, ice loading, galloping lines, as well as normal wear and tear, eliminating the need for precise initial adjustments as well as the frequency of adjustments long-term.
Collapsible frame
Non-rotational blade that will seat properly in the jaw regardless of operator pressure
Shipped fully assembled on insulators for all kV ratings
Aluminum square blade construction for maximum rigidity and current carrying surface area
4 hole NEMA tin plated copper terminal pads
Silver-to-silver jaw contacts
Suitable for horizontal upright phase-over-phase and phase-opposite-phase mountings
Maintenance-free bearings
Single channel or double channel base designs
Available with standard arc horns, high speed whips, or LLS® SF6 interrupter
Maximum Voltage Rating
72.5 kV
123 kV
145 kV
BIL
350 kV
550 kV
650 kV
Rated Power Frequency
60 Hz
Continuous Current
1200 & 2000 A
Short-Time Withstand, 3 sec
38 & 63 kA RMS
Peak Withstand
99 & 164 kA
Ambient Temperature Range
-40OC to +50OC
Standard -50OC Optional