An Economical Solution for Fault Isolation & System Reliability
The Southern States Smart Sectionalizer™, type SLS, is an economical, distribution class vacuum switching device that offers improved reliability to a distribution system. Using the SEL 2411 programmable automation controller, along with the integrated voltage and current sensors, the type SLS can be integrated into a Supervisory Control and Data Acquisition (SCADA) system to detect a fault, notify the SCADA Distribution Management System (DMS), and execute the SCADA DMS command to open or close the switch, confining outages to smaller segments on a line. This can drastically improve restoration and outage times when there is a loss of power.
This solid insulation device utilizes hydrophobic cycloaliphatic epoxy (HCEP) to offer superior performance and reliability in harsh outdoor conditions. Additionally, it comes standard with a magnetic actuator mechanism, 304 stainless steel mechanism tank, as well as an amber LED fault indicator light on the bottom of the switch.
The vacuum switching device is also compatible with other manufacturers protection relays that can offer recloser functionalities. These include the SEL 351R4, SEL 651RA, and SEL 651R2.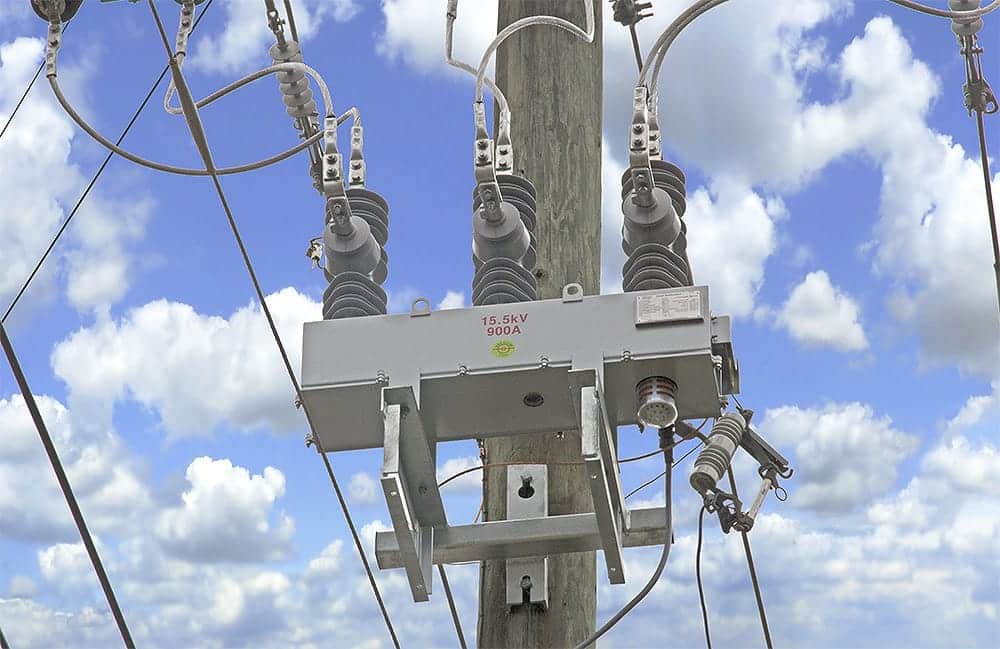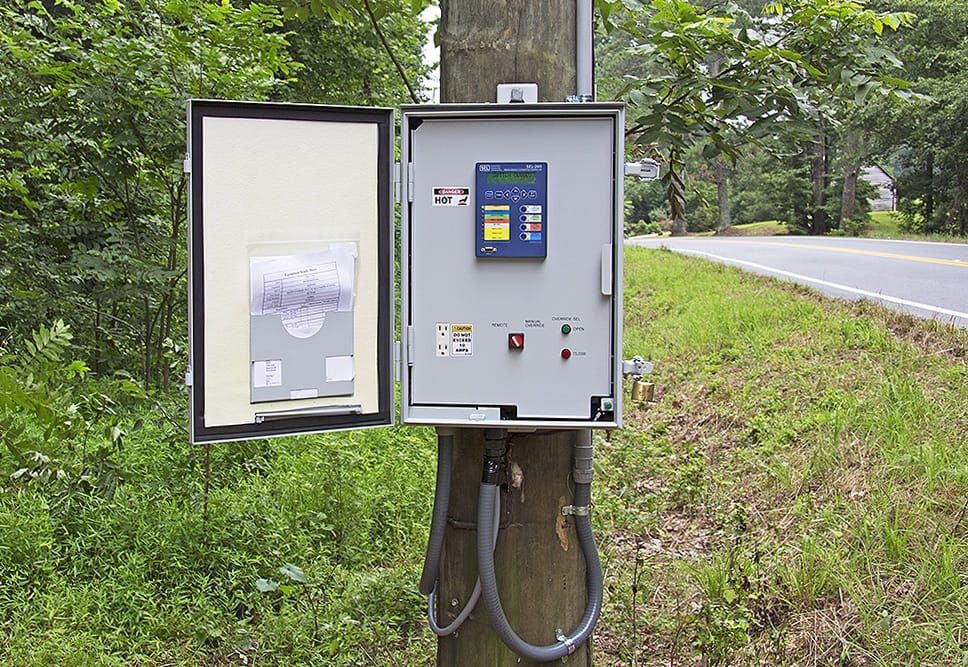 Sectionalizer:
Solid insulation – hydrophobic cycloaliphatic epoxy (HCEP)
Long life vacuum interrupters
Magnetic actuators on each phase
Three (3) current sensors and Six (6) capacitive LEA voltage sensors
304 stainless steel mechanism tank
High-visibility yellow manual trip and lockout handle
High-visibility position indicator with 360° visibility
Amber LED fault indicator light
Control Cabinet:
SEL-2411 programmable automation controller
120 V AC / 24 V DC converter
Hygrotherm – To control temperature and humidity
Local / remote switch with open / close push buttons
Single 24 V, 10 AH, 10-year lithium ion battery
SCADA points for Fault indication
Provisions for customer supplied radio
MOV surge protection
Duplex receptacle
Stainless steel – NEMA 3R box painted ANSI 70 Grey
Maximum Voltage (kV)
15.5
27
38
Continuous Current (A)
630 / 800 / 900
Rated Frequency (Hz)
50 / 60
Basic Insulation Level (kV)
110 / 150
150 / 170
170
Load Break (A)
630 / 800 / 900
Symmetrical Interrupting Current (kV)
12.5 / 16
Asymmetric Peak Making Current (kA)
42
Magnetizing Current (A)
22
Line Charging Current (A)
2
5
Cable Charging Current (A)
10
25
40
60 Hertz Withstand Voltage (kV):
Dry, One Minute
50
60
70
Wet, Ten Seconds
45
50
60
Partial Discharge (corona) (kV):
10
19
26
Maximum (pC)
1
Creepage Distances (mm / in):
Terminal to Terminal
673 / 26.5
876 / 34.5
1160 / 45.7
Lower Terminal to Ground
679 / 26.7
938 / 36.9
1500 / 59.1
IEC Pollution Class Terminal to Ground
Very Heavy
Mechanical Life (Close / Open Operations)
10,000
Ambient Temperature (OC)
-30 to +40